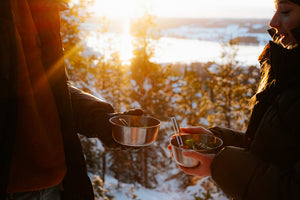 The best gifts leave an indelible mark on the heart
This holiday season, we invite you to embark on a unique journey of gift-giving–one that transcends the ordinary and ventures into the realm of dreams and adventures. It's not just about finding the perfect gift; it's about creating cherished moments, igniting imaginations, and experiencing the joy of giving.
The best gifts leave an indelible mark on the heart. That's why we've curated a collection of gifts around a plan—a roadmap to unforgettable experiences. Your gift can be a passport to a breathtaking journey, a recipe for a romantic date, or even a guide to conquering new culinary horizons on a gas stove.
Wanderlust wonderland
Gift the thrill of exploration with a meticulously planned trip, complete with destination tips, must-see places, and of course, the cooking essentials.
Culinary Adventure
Spice up their lives with a recipe card and an outdoor date kit, ensuring that every meal is an opportunity for bonding and creating memories.
Enjoy Everyday
Gift the opportunity to get the most out of everyday, add vitality, movement, and fresh air to post-work hours.
Helpful resources for adventurers
SUSTAINABLE AND TASTY FOOD FOR THE FIVE-DAY WALK
For your long hike to be as good as possible, it is important to have good and energy-rich outdoor food in your backpack. Planning a good menu and packing the food in a sustainable and efficient way is therefore important. Both to know what order to cook your meals in and to make it quick and easy once you're out on the trails. Read blogpost here.
EVERYTHING YOU NEED TO KNOW ABOUT CANISTER GAS
Are you planning to bring a stove for the first time on one of your outdoor adventures? If you are new to canister gas or want to learn more about it, this guide will provide you with everything you need to know. Learn more here.
SEEKING IDEAS FOR ADDING ADVENTURE TO YOUR EVERYDAY LIFE?
It doesn't have to be a holiday or weekend for you to enjoy energizing activities in nature. Instead, maximize your everyday life with small and large experiences, before or after work! It's good for both body and soul. Read blogpost here.
Recipes that will elevate every outdoor experience
ONE-POT PASTA TAGLIATELLE WITH SMOKED SALMON
Help anyone create an outdoor meal to remember with this incredibly tasty and simple one-pot pasta.
Find recipe here.
BRIE CAKE
Delectable and savory open fire treat, ideal for a date night at the campfire. Find recipe here. 
ROSE HIP SOUP WITH RAISINS AND CARDAMOM
Looking for inspiration for your morning beverage? This is an excursion classic that is sure to fill your body with warm and fuzzy feelings. Find recipe here.